Buddy and I have a running joke – if he doesn't end up with wet shoes, a bruise or some scratches, it wasn't an adventure. We thought we had gotten our bad luck out of the way after he lost our car keys at Pedernales Falls State Park. But what should have been a quick, relaxing visit to Jacob's Well in Texas Hill Country proved to be more of an adventure than we had planned – due to his all-too-reliable clumsiness.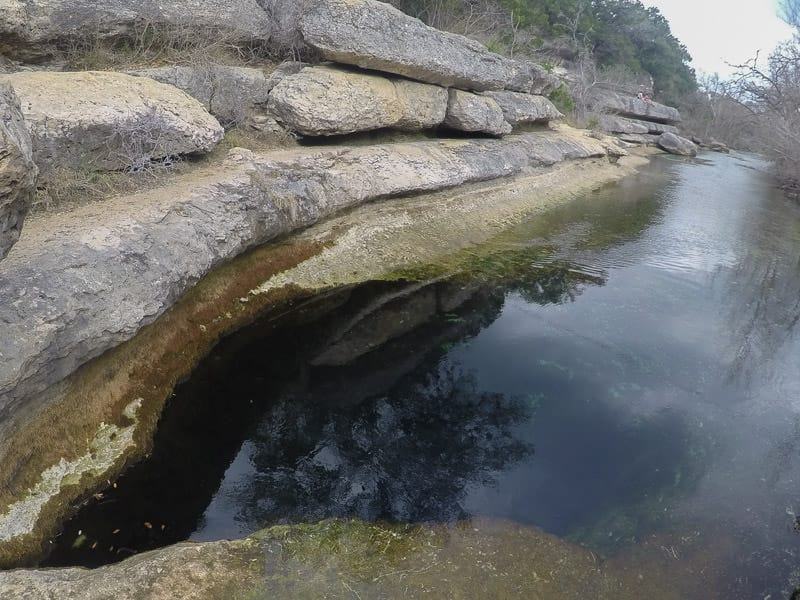 Getting to Jacob's Well Natural Area
After our glass bottom boat tour in San Marcos, we were excited to drop by the iconic Jacob's Well Natural Area on our way back to San Antonio. I had asked around for suggestions of must-see places in the area and at least five people mentioned the Jacob's Well. Clearly we had to go.
To get there, we had to drive through the adorable, artsy town of Wimberley. We arrived at what looked like a picnic area. Then we set off on foot following the very to-the-point sign, through the woods and down to the well.
When we were finally able to look down at it from atop the limestone cliffs, we were surprised at how small it was. I read that it is 12-feet in diameter, which seems pretty wide until you are staring down at it from above.
There are pictures all over Instagram of people jumping into this hole. Now that I know how small it is, I must say they are definitely much braver (or maybe just crazier?) than me. I'm positive I'd crack my head open or break a leg trying to pull that off!
It was also surprising that so many people were there in winter when swimming isn't even allowed. However, we could see why the unique beauty of this artesian spring would draw visitors any time of year.
Exploring the Area Around Jacob's Well
Since the well was so popular, we decided to walk further down the limestone cliffs to see more of Cypress Creek. We sprawled out for a few moments to soak up the sun and admire the clear water below us.
I sat on the edge of the rock, letting my feet dangle over, while Buddy hung out further back. He isn't a big fan of drop-offs, since he is a bit clumsy (as mentioned previously). After a gloomy morning, I was psyched the sun was finally shining and eager to let it warm my skin.
According to our observations from above, it looked like we could get closer to the well by walking along the narrow rock edge next to it. The man-made boardwalk on the other side still had some people sitting on it and more on their way down. So we thought this would be a good way to avoid the crowd.
After getting a good dose of Vitamin D, we carefully made our way down the rocks to the edge of the creek. Buddy was excited to see what wonders were inside the well. And he looked quite pleased with himself for discovering this awesome vantage point.
Taking an Unintentional Dip in Jacob's Well
The rocks were a little wet next to the well, so he planned his steps strategically. But it just wasn't good enough. Before he knew it, his feet slipped on some algae and he fell on his hands and knees. With nothing to hold onto, he began to slide.
I was admiring the creek when I heard a splash and everyone near the well gasp. My mouth dropped when I saw Buddy laying on his stomach knee-deep in the water, holding the camera high in the air. In a panic, he frantically tried grabbing the rocks with his one free hand. I watched helplessly – too far away to offer any assistance.
All the while, his feet slipped further and further into the well. I seriously thought he was going in, camera and all. Luckily he was able to get a good grip on a rock and stop himself just in time.
Finally, he emerged from the water with bruises on his knees and ego. He was sopping wet up to his mid-thigh and the camera bag had taken a nice dip. Thankfully it is water proof! Everyone who witnessed it called out to check if he was okay. With his head down in shame, he casually waved and shouted "Yea…" as he nervously half-crawled his way back to safety.
Seeing Jacob's Well the Right Way
After taking a few moments to let our hearts settle, we made our way down to the boardwalk. You know, the place they made for people to view the well safely? I went first through the narrow rock-carved walkway.
At the viewing area, I found a nice spot to sit and admire the multi-colored well below me. Buddy hung back until most of the tourists who saw him bust it had cleared out. Then he slowly wandered down to join me – being extra-careful not to slip on the rocks with his soaked shoes. We enjoyed the pristine water and took some photos while we laughed about his mishap.
On our way back to the car, Buddy looked at me and said "You want to know the worst part?"
I reluctantly nodded.
"The damn keys were in my pocket… I almost lost them again! Maybe you should be responsible for them from now on. I clearly shouldn't be."
---
Important Info for Visiting Jacob's Well
Where is Jacob's Well?: 1699 Mount Sharp Rd., Wimberley, TX 78676. Only 30 minutes from San Marcos and about 1.5 hours from San Antonio.
Parking: There is ample free parking. However, it may get more packed on a busy summer day.
Swimming Season: From May 1- October 1, swimming is allowed by reservation. But make sure to follow all the rules to avoid being kicked out.
Fees: In summer, "Water Access" is $9 per adult. However, if you just want to take a peek at this beautiful blue abyss, entry to the natural area is free.
Hours: Swimming passes are available in two-hour increments from 10a.m. to 4p.m. The area closes at 6p.m.
Average Water Temperature of the Well: In the summer, the water is about 68 degrees Fahrenheit. Great for cooling off on a hot Texas day!
Jacob's Well Depth: 23 feet! It then leads to an underwater cave system which is prohibited to guests as there have been many deaths in this cave system.
Read our other Texas outdoor adventure tips here.