I'm always on the lookout for beautiful outdoor areas or unique attractions any time I visit a new place. While I love to hike, sometimes it just isn't practical due to weather or time restraints, that's why the Desert Botanical Garden in Phoenix is so perfect.
You get to enjoy a taste of the local Sonoran Desert landscape and plant life without having to commit to a long dusty hike in the heat. Plus, it is special in that you get to see a way larger variety of flora in a short amount of time than you ever could out on a trail.
The way it is landscaped really is like enjoying an outdoor art museum – with flowers and cacti and unique art pieces perfectly placed. There are also the large rock formations of Papago Park nearby, offering the perfect backdrop to your photos.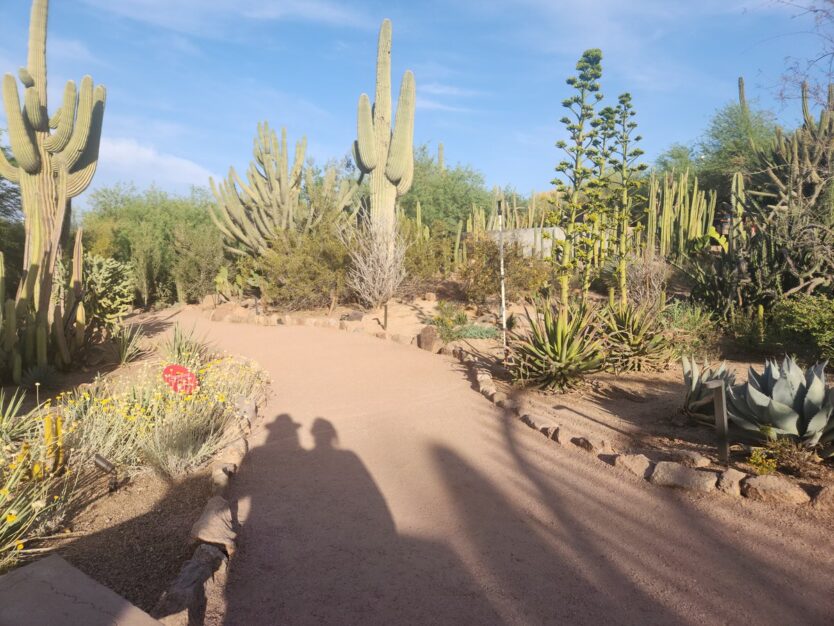 When I decided to meet my mom halfway between us in Phoenix for a pre-Mother's Day girls' trip, I knew this unique botanic garden was a must! I always look up local gardens when I travel since they are always just such a delight to wander through. Since it was too hot to get out hiking during the day on our trip, we loved getting to feel like we had the chance to take in the local landscape and plants without risking heat stroke.
We actually saw multiple other adult children there with their moms, so I wasn't the only one to think this would be an activity that would be a nice way to spend an afternoon together! I'd highly recommend a visit if you will be in Phoenix. We went a few hours before dusk in late April and loved the lighting and not-too-hot weather. It also allowed us to catch a nice sunset before we left!
About the Desert Botanical Garden in Phoenix
Conveniently located near the Phoenix International Airport and the cute downtown Scottsdale area, the Desert Botanical Garden is a must-see when in Phoenix. There are about one and a half miles of trails, multiple exhibits, art pieces, educational signs and opportunities, and even great on-site dining. It is also fully accessible by wheelchair.
It is easy to find using Google Maps and they have a very large parking area. The entry price is $24.95 (as of April 2023), which may be out of some visitors' budgets. However, if you can swing it, the garden is really lovely! You can book ahead online, which is advised since it can get busy at peak times.
On a budget? They have a community day with free admission every second Tuesday of the month!
7 Top Tips for Visiting the Desert Botanical Garden in Phoenix
1. Choose Your Time Wisely
Depending on the weather, you may want to plan your trip to the gardens when they open in the morning or a few hours before they close. It is a lovely place to catch the sunset!
The normal operating hours of the Desert Botanical Garden in Phoenix are currently (as of April 2023) 8 a.m. to 8 p.m. most of the year, with extended hours in winter.
2. Watch Out for Thorns!
As soon as we got out of the car, my mom leaned over a cactus to take a picture and multiple thin, tiny thorns caught her dress and continued to stick into her legs for the next hour until she finally got them all. It wasn't horrifically painful, but I'd definitely avoid it!
Some of the plants could do a lot more damage than just a little prick, so just be aware. Even many of the tree branches have little thorns, but that's part of what makes these species of plants so interesting!
3. Grab a Cold Drink Before You Explore
When we got to the gardens, we popped into the restaurant to check out the menu for later and I asked the hostess if she knew where I could buy water. Not only was she able to sell us a water bottle right there, but we could also choose other drinks off the menu (not sure if this includes alcoholic drinks). So, I went with a prickly pear seltzer water because when in Rome, right?
It was lovely to have a cold drink to sip on as we wandered along the trails. Plus, staying hydrated is key in such a dry climate!
4. Don't Forget Sun Protection
Not only is Arizona dry, but it is also very sunny. While there are some shaded spots (and benches nicely scattered along the trails to relax), it is mostly full sun. Wearing sunscreen, or covering up with a hat and long sleeves is key to not getting burnt.
5. Hold onto the Map!
The gardens are much bigger than I thought they would be! While it was set up in a great, logical way, you could miss a section if you aren't paying close attention while strolling the winding paths. Luckily, the map they give you upon entry can help you check that you have gone to each area!
6. Check for Special Events & Exhibits
The garden has a variety of special events and exhibits throughout the year. Upcoming events include dog days where you can bring your pup along to the garden, as well as musical and dance performances.
7. Don't Rush Through!
We took our time and stopped to watch butterflies and hummingbirds and large lizards, as well as take in all the many amazing details on all of the plants. We also learned that cacti can live for more than 100 years (plus, many more interesting facts) by stopping to read the signs.
BONUS: Make a Reservation at their On-Site Restaurant
After strolling through all of the trails and taking in the beauty of the desert plants, we went back to the restaurant to enjoy a meal while we waited for the sun to set. I had read that the Desert Botanical Gardens is a top place to be at that time of day, so we didn't want to miss it!
Since we forgot to make a reservation, we sat at the bar and the awesome bartender instantly told us all of the food is great. And she was not wrong! We shared the large Caesar salad and bowl of tortellini which was all delicious. They had some really unique options on the menu as well, featuring local ingredients and recipes.
I'd highly suggest a reservation if planning to eat at Gertrude's, especially if you want to sit in the romantic outdoor seating area. This spot looked wonderful at dusk! With the gardens being open until 8 p.m. and the restaurant doing last seating at 7:30 p.m, you could have plenty of time for a late afternoon wander followed by a nice dinner.
I'd recommend at least two hours to wander around the garden trails, and another hour to have a meal or enjoy a drink!
Thank you to the Desert Botanical Garden in Phoenix for hosting us on our visit. As always, all opinions are my own.
Looking for other outdoor-focused fun in Arizona? Don't miss a chance to paddleboard on Lake Powell to the iconic Antelope Canyon (or take the traditional tour!).