When we went on our first visit to Vancouver Island about seven years ago, the weather did not cooperate for touring Victoria's Butchart Gardens. It was extremely rainy and windy with a big storm rolling through. On our recent return trip, we were blessed with absolutely perfect weather to wander around the Butchart Gardens in autumn. It was pleasantly cool with so much sunshine, it really made all the amazing colors shine even brighter.
These stunning gardens are definitely a must if you are planning to visit Victoria in fall. The intensely red coloring of the Japanese maple trees alone is worth the trip, but we were in awe around every turn! The Butchart Gardens are definitely world-renowned for a reason.
About The Butchart Gardens
Located just north of the popular Canadian city of Victoria on Vancouver Island, the Butchart Gardens is a sprawling display of amazing landscaping. It is almost 120 years old and was designated a National Historic Site of Canada on its hundredth birthday in 2004. It is home to about 900 hundred plant varieties across its 55 acres – even the trash bins have flowers planted on top!
Not only is it beautiful to behold, but the story of how it came to be is also very charming. The area was once home to a limestone quarry, but Jennie Butchart decided to turn it into a sunken garden once production had ended. Eventually, the Japanese, Rose, and Italian gardens were added and curious locals began to request visits. Later, Jennie's grandson inherited the gardens and turned it into the attraction it is today.
I love that each generation has added their own special touches and that it has remained in the family all these years. It is currently owned by Jennie's great-granddaughter. Such a special legacy! They even keep a small private garden near the Dining Room since Jennie had it set up this way early on.
Why Visit Victoria's Butchart Gardens in Autumn?
Autumn at the gardens is an especially wonderful time to visit. The summer crowds have dwindled down, the weather is ideal for a stroll, and the leaves are changing to bright fall colors! I was surprised to still see so many flowers in bloom during our visit in early October. (Watch our video!)
Autumn at Butchart Gardens runs from October 1 to November 30. Note that Canadian Thanksgiving is celebrated on the second Monday in October, so it may be a little busier then. This is when we ended up going, but it really wasn't too bad!
Aside from the rose garden which was no longer at its prime, all of the gardens were still very lush in autumn. Plus, the red, golden, and orange leaves really add to the beauty! The Japanese Maple was particularly stunning.
5 Main Sections of The Butchart Gardens
We've wandered through our fair share of gardens, but Butchart Gardens is definitely one of the most impressive. You can tell that it was just extremely well thought out and that so much love has been poured over it through the last 100+ years.
Be sure to plan enough time to walk around all five gardens since they each offer a unique experience.
1. Sunken Garden: The iconic part of Butchart Gardens you've likely seen in photos because it is just SO photogenic. This is where the gardens got their start and an absolutely beautiful scene to take in with dozens of colors and hundreds of plants surrounding you. Don't miss out on the views from the lookout area in the middle and the little wooden house near the large overlook into the sunken garden.
2. Rose Garden: With 280 varieties of roses, this is quite an impressive array of colors and smells. The garden blooms from summer to early autumn.
3. Japanese Garden: Autumn in the Japanese Garden is especially stunning with the Japanese Maple Trees showing off their fall colors. After stepping through the Grand Torii gate, you are absolutely transported!
4. Mediterranean Garden: Over near the parking area, this garden is home to exotic plants from around the world.
5. Italian Garden: Once a tennis court, the entry to the Italian Garden feels very regal. Flowers of all colors surround the pond and they even serve gelato!
Other places not to miss!
As you wander around the gardens, there are multiple places between each major area to enjoy as well:
The beautiful indoor Rose Carousel is nearby to the Sunken Garden. It is a classic experience children and adults will love.
Be sure to watch the fountain at the back of the Sunken Garden put on its stunning show!
From the Japanese Garden, you can walk out to see Butchart Cove where some visitors arrive by boat.
The Dragon Fountain has a stunning wall of flowers helping to hide it away that we absolutely loved. There are also beautiful Totem Poles nearby.
Bonus: Enjoy a Lovely Garden-Side Afternoon Tea Experience
We didn't have enough time to take part in this iconic tradition, but the tea offering in the beautiful Butchart Gardens dining room looks amazing.
The Afternoon Tea includes an array of bite-sized sandwiches and treats in addition to enjoying a tea to drink. I really appreciated that they have options for many different dietary restrictions as well. (They do need 24 hours' notice for these.)
If you are short on time or want more meal options, they do have the Blue Poppy Restaurant and a Coffee Shop with other options.
Annual Events at Butchart Gardens
You may be surprised to learn that the Butchart Gardens is open all year round. There are fun events each season, but summer has the most options to choose from. In July and August, there are live performances on the outdoor stage. Plus, there's a fireworks show on most Saturday nights in the summer! And they offer a night-time summer offering with romantic lighting of the paths.
For Christmas time (December 1 – January 6), Butchart Gardens has an evening light display to enjoy, complete with carollers to serenade you and festive treats on offer! You can join in for the official light-up in 2023 on December 1.
In spring, the new bulbs that were planted over winter are in bloom and the gardens are bursting with life. Around Easter, they offer an egg hunt for children. And they also have special Mother's Day dining options and a musical performance.
Butchart Gardens FAQ & Tips for Visiting
What is the best month to go to Butchart Gardens?
October is an amazing time to enjoy the gardens. Butchart Gardens in autumn offers a mesmerizing array of colors. However, getting to see the spring and summer blooms is worth a visit as well!
How much is a ticket to Butchart Gardens in Victoria?
Rates for Butchart Gardens vary. In winter, the rates currently range from about CAD$23 to $35 per adult. In summer, admission to Butchart Gardens is CAD$41.50 per adult. Readmission is permitted on the same and next day for a small fee, but you do need to get your hand stamped and hold onto your original ticket.
Tickets can be purchased online or in person at the entry gate. They do offer a military discount. An annual pass is also available. Check for current rates here.
How do I get to Butchart Gardens?
Butchart Gardens is located just outside of Victoria on Vancouver Island in British Columbia, Canada. If coming from Vancouver, Canada, or Washington State, you will need to take a ferry boat. You can actually get to Victoria in about five hours from Seattle! If you are traveling without a car, a bus or car service can get you to the gardens!
How long does it take to walk through Butchart Gardens?
Plan for at least two hours to walk through all of the gardens, or longer if you really want to enjoy your time and take it all in. If you plan to dine at the gardens, add an extra hour (or two for high tea!).
Is Butchart Gardens dog friendly?
Yes! Well-behaved dogs are welcome at Butchart Gardens. They even had little water fountains for your furry friend around the trails. Read the pet policy rules here.
Other Things to Do in Victoria in Autumn!
Victoria in autumn is a wonderful idea. The fall foliage, crisp air, fewer tourists, and amazing options for activities make it an ideal destination. In addition to Butchart Gardens, here are some of the top options we've loved or read about in our research:
Fun activities in Victoria and beyond:
Guided or Self-Guided Walking Tour: Whether you go it alone or hire a guide, wandering through Fisherman's Wharf, Chinatown, through the Fairmont Empress, and along the Inner-Harbour Parkway are all great options.
Rent a Hot Tub Tug Boat: We stumbled upon this adorable and unique touring option a little too late to make it work for our trip, but it is so random we couldn't have resisted if we had time to fit it in!
Parliament Buildings Public Tour: These are the iconic green-domed buildings and are home to the Legislative Assembly of British Columbia.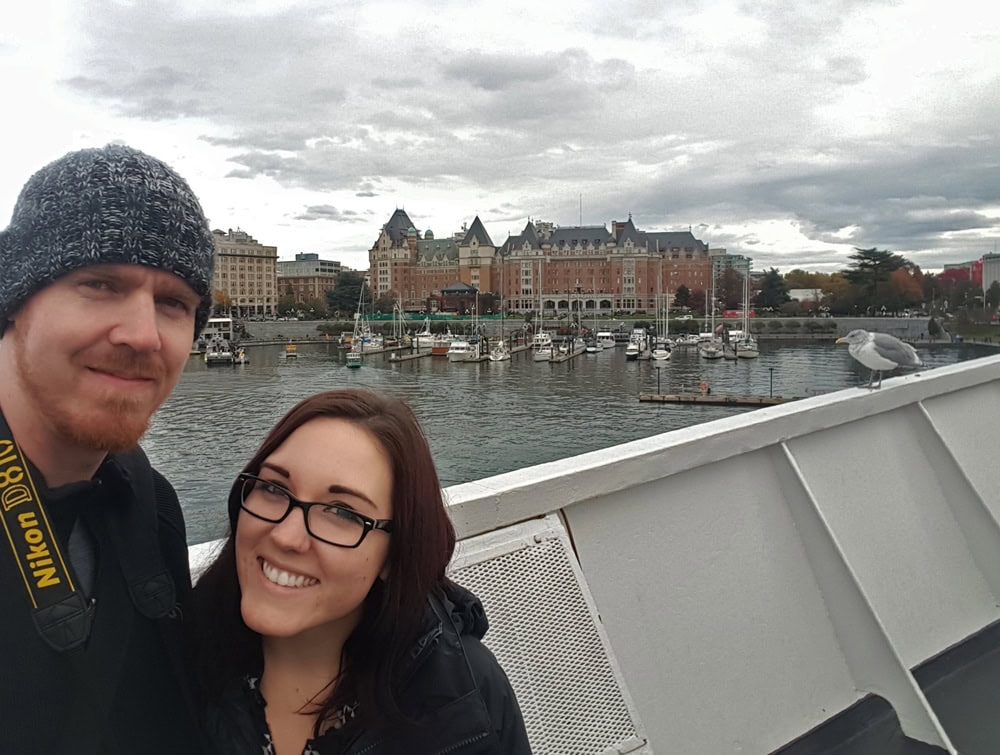 Wildlife & Whale Watching Tour: Victoria is a prime whale and orca viewing area! There are tons of options to choose from.
Tour Museums & Castles(!): The Royal BC Museum is highly rated and a must for history lovers. There is also Miniature World and BC Aviation Museum. Craigdaroch Castle and Hatley Castle (a filming location of the movie Deadpool) are also popular.
Wine, Cider & Beer Tastings: We loved our visit to Merridale Cider north of Victoria. Sea Cider Farm & Ciderhouse, Victoria Cider Co., and Junction Orchard & Cidery are other popular options in and around Victoria for Cider. If you prefer wine, check out Unsworth Vineyards and Blue Grouse Estate Winery. For beer, there are about a dozen options to try out!
Malahat SkyWalk: As you drive away from Victoria toward Nanaimo there is a really cool lookout tower you can climb up then slide down! It is kind of expensive, so we skipped it. But it looks amazingly unique!
Other places to see fall foliage in Victoria (or take a nice walk!):
Beacon Hill Park
Hatley Castle's Japanese Garden
Galloping Goose Trail
University of Victoria Campus
Goldstream Park
Lochside Trail
We definitely need to take a dedicated trip back just to explore Victoria, but we are so happy we got to finally see the iconic Butchart Gardens before taking off further into Vancouver Island for more exploring and some amazing relaxing days in Tofino!
Thank you to Butchart Gardens for hosting us on this lovely autumn outing. As always, all opinions are our own.